Powerful Mini PC | Excellent Value For Money | Vamaa C1867
This is a review of the Mini Computer that we bought for under 10,000 Rupees. We think it is very good value for money as it comes with an Intel 7th Generation processor and has Genuine Windows 10 Professional OS. It is equipped with 4GB RAM, has a maximum capacity of 32GB RAM, it has an SSD and also a wide range of expansion options which we will go through in this product review.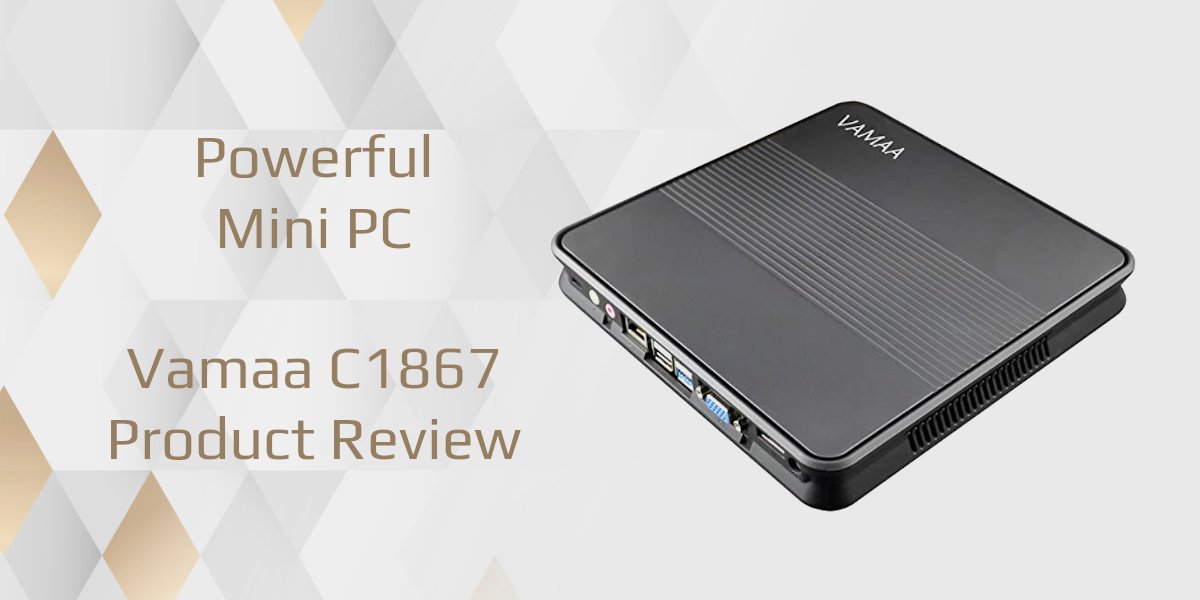 The Reason for buying this computer is that we needed a machine that can run Windows operating system. One of our Web Development Software runs only on Windows. While we have other computers, they are running Linux and Chrome OS. All of these computers are capable of running Windows, but we found out that the licence cost of Windows 10 Professional is around 15,000 Rupees.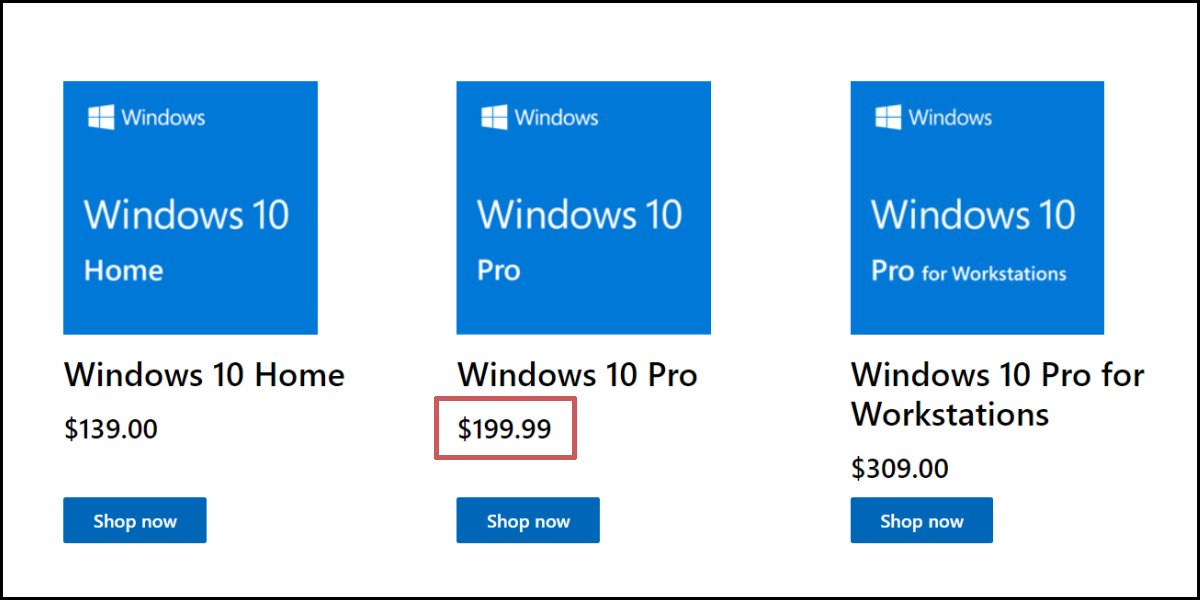 So, buying a new computer altogether which comes preloaded with "Windows 10 Pro" was the better option, particularly since the whole computer costs less than the price of just the operating system. This Mini PC costed us just 9990 Rupees all inclusive.





Inside the box, there is the PC, a power adapter and the VESA mount. There are no user manuals, which are not needed anyway because getting it up and running is straightforward and easy.

The shell of the PC is just the size of the motherboard inside it. We will open it up in a bit. On the outside, it is a 20 cm square and stands 4 cm tall, it weighs around 800 grams. Although it is not as small as our beloved Raspberry Pi, it is smaller than other HTPC's. On the back, we can see the Kensington Lock, the Mic Port, the Audio Out Port, the Gigabit Ethernet Port, 4 USB 3.0 Ports, 1 VGA Port and the HDMI Port. And on the sides, we can see heat vents and at the front, we can see the power button which glows blue. And on the back, there is the "Genuine Microsoft Label" also known as GML and we can use the VESA port to connect it to a monitor.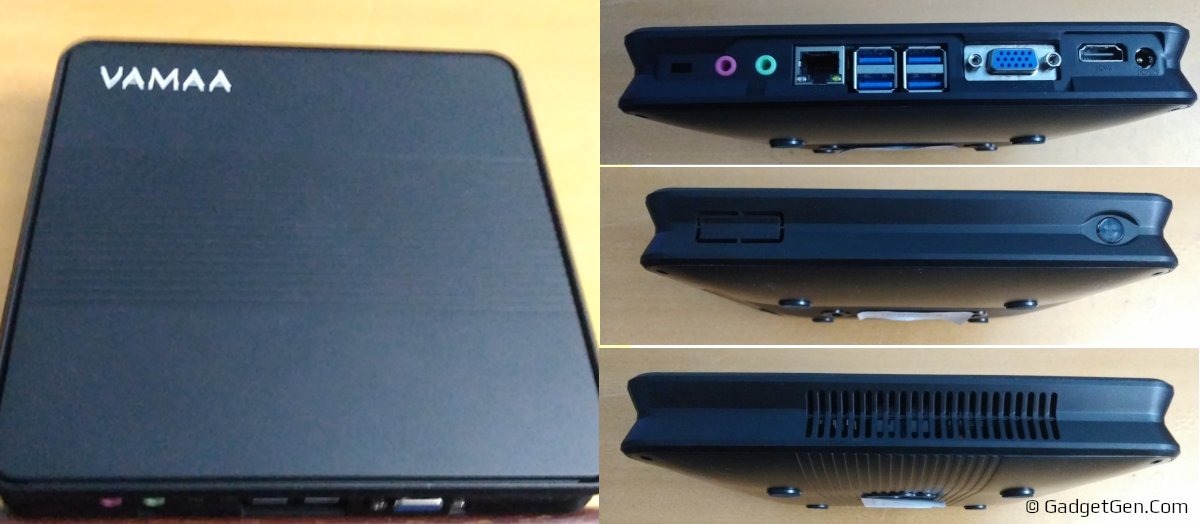 The unit is powered by an external 12 Volt 5 Amp power brick. We noticed that it runs quite cool since the entire PC consumes less than 20 watts. We can leave this machine on all the time since the power consumption is not much. This makes it a great option if we want to use it as a Media Server, Print Server or a File Server. The low power consumption also helped it run for 50 minutes on an ordinary UPS along with a 23 inch monitor during a power cut.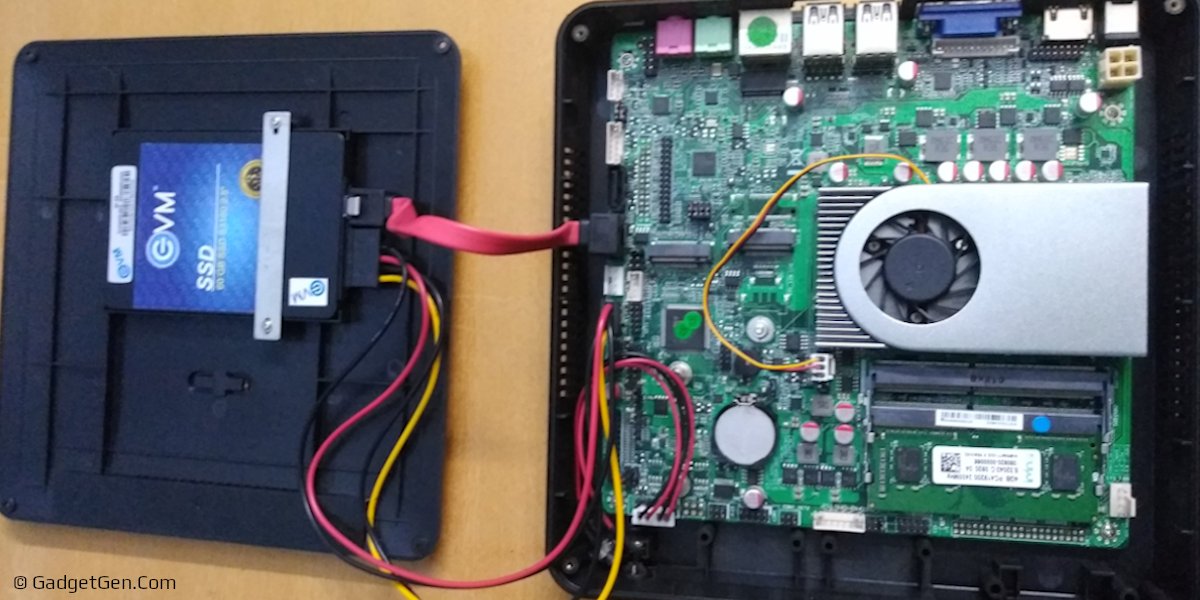 Let's see what's inside this computer. Opening it up is quite simple. There are 4 screws at the bottom of the case and opening them reveals the ITX motherboard. First Impressions show that the motherboard is of decent quality. It has an all solid state capacitor design. The RAM can be expanded since there is an empty memory slot which is compatible with DDR4 laptop memory. We can see a user replaceable BIOS battery, an additional SATA port that can be used to connect DVD drive if needed. Most importantly, there are the M.2 PCIe slots, one of which will accept ultra-fast M.2 NVME storage devices and the shorter one which can house M.2 cards like WiFi and Bluetooth. This makes it a great option to speed up the computer even more with the new generation of M.2 storage devices. The processor is underneath the FanSink and being fcBGA, it would be soldered onto the motherboard, so replacing it with some other processor is not possible. The processor is Intel Celeron 3867U.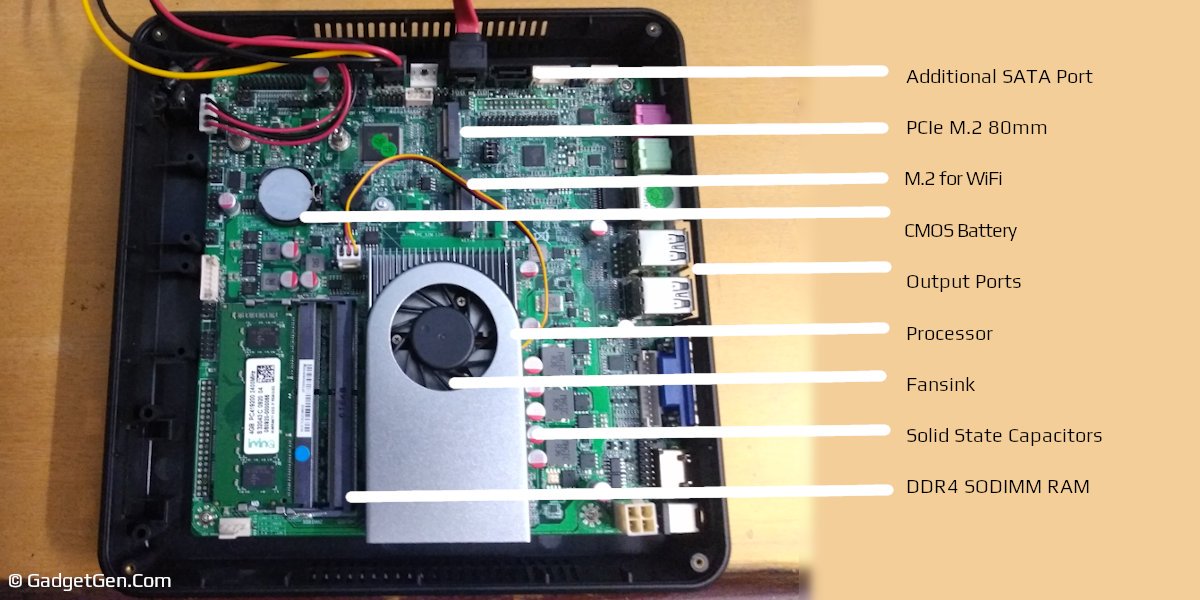 It is a 7th Generation Kaby Lake 14 nano-meter chip. It has two cores running at 1.8 Gigahertz and supports a maximum of 32GB of RAM. This makes it great for memory intensive applications. The processor supports "Dual Channel Memory", and has built in Intel HD 610 graphics which can decode 4k video at 60 Hz. It should also be able to run low end games at a decent FPS.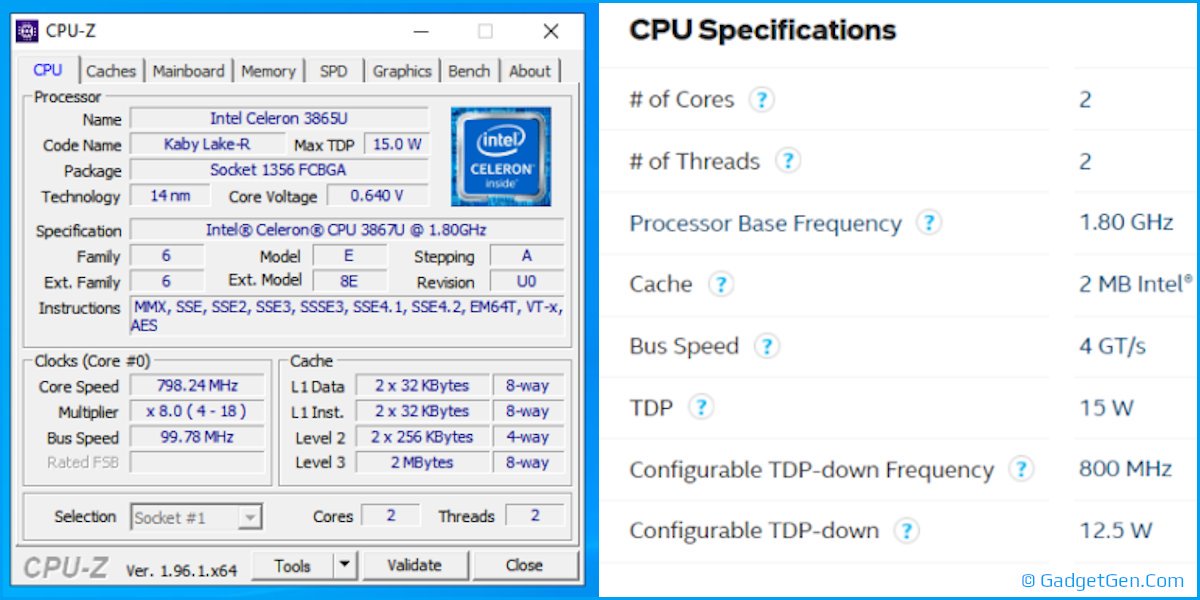 It comes by default with 4GB of 2400 MHz RAM, which we can expand with equal or higher capacity RAM in the second slot. Since it is a "Single Rank" RAM, it is advisable to match that as well. The SSD is 60GB and we tested that it has a read speed of 300 Mbps, the write speed though is only 50 Mbps.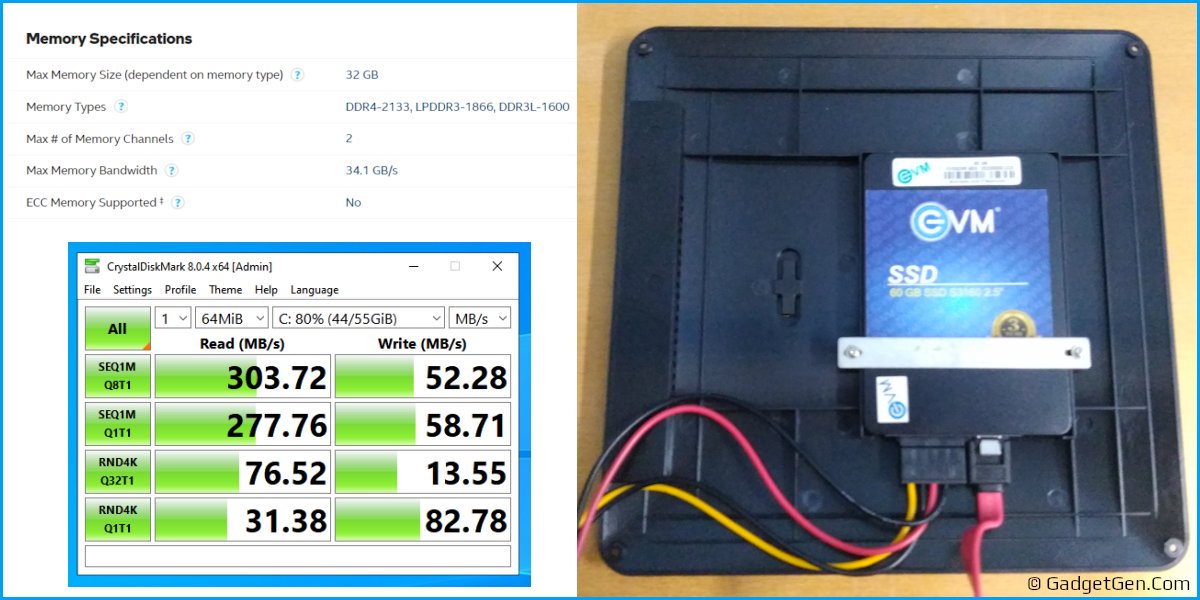 After installing Windows and updating it, there is around 20GB of free space available. The easy option to increase the storage is to use an external USB 3 hard disk, if a higher capacity internal drive is preferred, we can use an M.2 NVME since it is very fast compared to a regular SSD. To put it into perspective, M.2 SSD's have read speeds ranging from 1 Gbps and 3 Gbps, that's around 10 times quicker. There is no WiFi or Bluetooth built-in, so we need to use an external dongle, which by the way is inexpensive.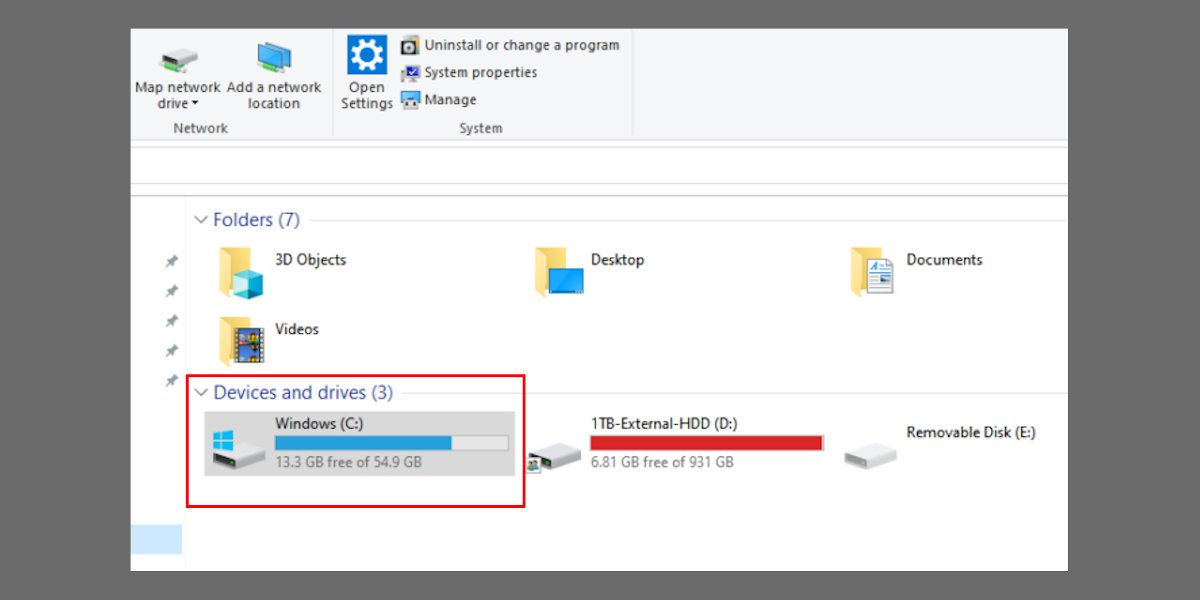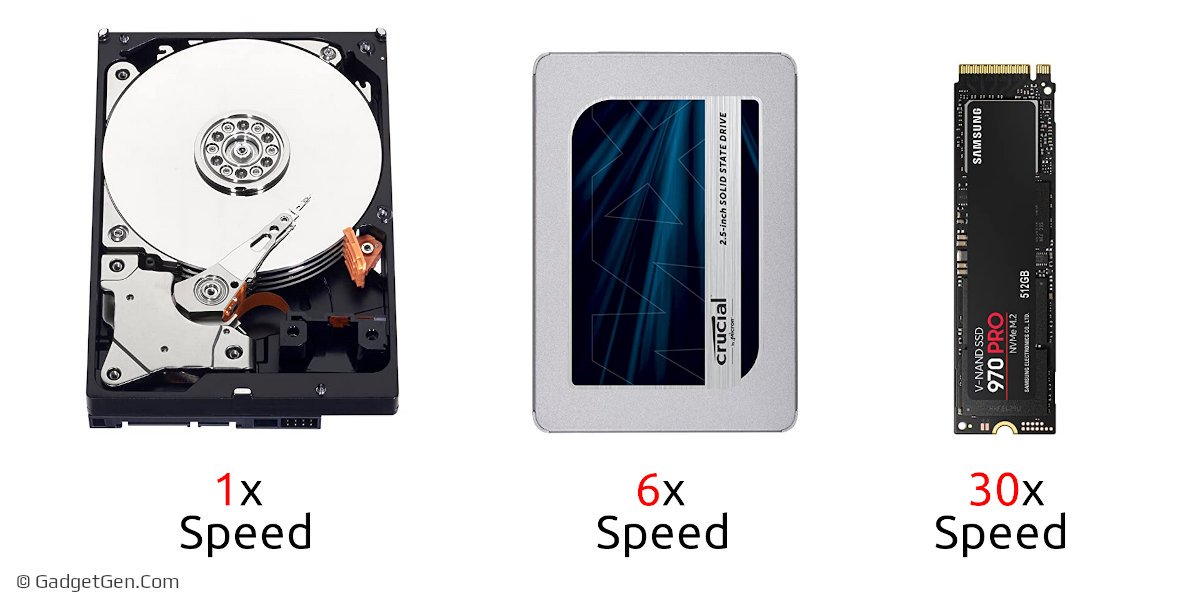 Starting it up, the computer boots in in 20 seconds, the first thing we noticed is the hum of the internal fan. While it was not annoying, it certainly made more sound than our Raspberry Pi's. We wanted to see if we could turn off the fan altogether. We checked the processor temperature and it was around 50 degrees.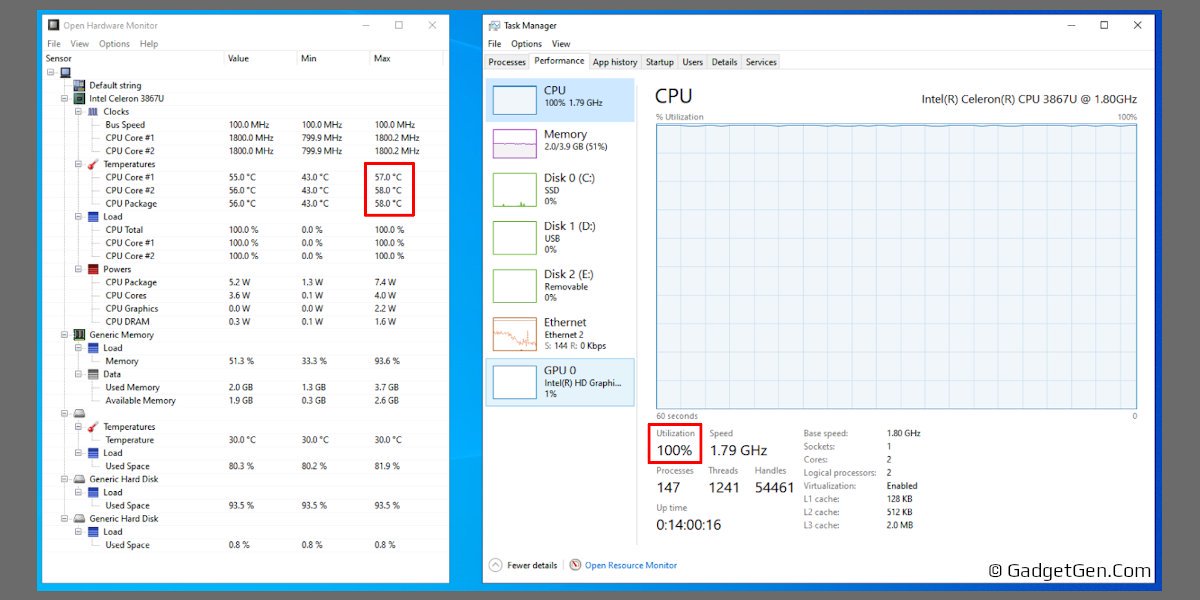 So, we headed to the BIOS to turn off the fan, but surprisingly the BIOS does not allow us to turn it off, but instead can be set to lower values making it practically silent. Despite setting it to the lowest value, we saw that the processor temperature remained the same. We stressed the processor to see if it would get to the rated 100°C, but we found out that even with this lowest fan settings the temperature would not touch 60°. This gave us the idea that maybe we can overclock this processor to make it run faster. We tried many different options in the BIOS, but it is just not possible to overclock it because of the locked multiplier and the fixed TDP.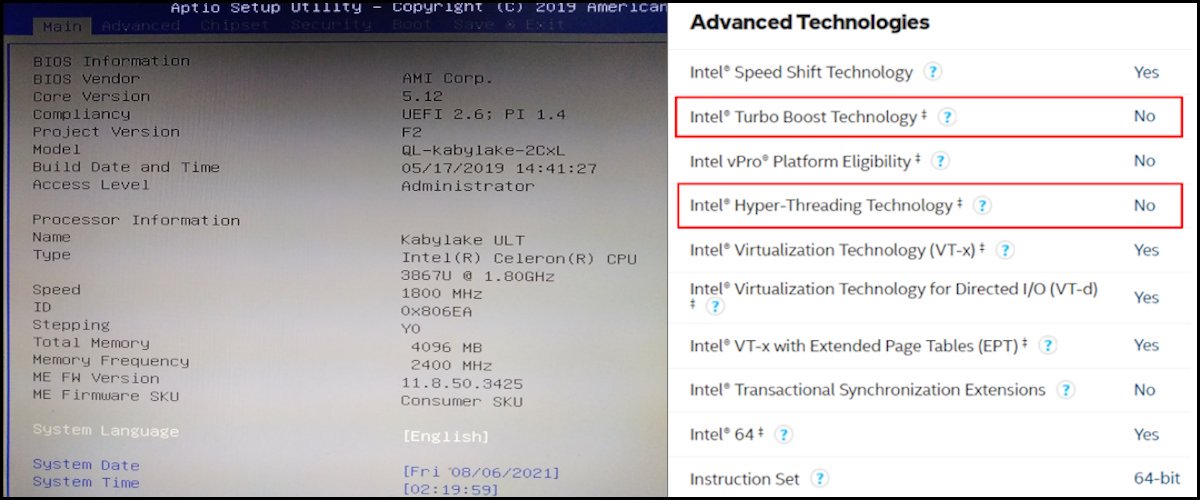 This processor could have run much faster, if it was not restricted by Intel, still it is a gem of a processor. It used to sell for more than 100$ at the time of launch, which is yet another factor that justifies this sub 10,000 Mini PC is of excellent value. The applications load quite fast and are peppy to use. The processor hits 100% every now and then, but there is no significant lag when multiple applications are loaded at once.





The Gigabit port connected at the right speed. Finishing the setup and updating it completely, took an hour.





To test the usability, we tried to playback a video edit and it managed to do three 1080p simultaneous tracks comfortably. To put it into perspective, our big machine that we use for video editing can play 8 tracks but also consumes 20 times as much power.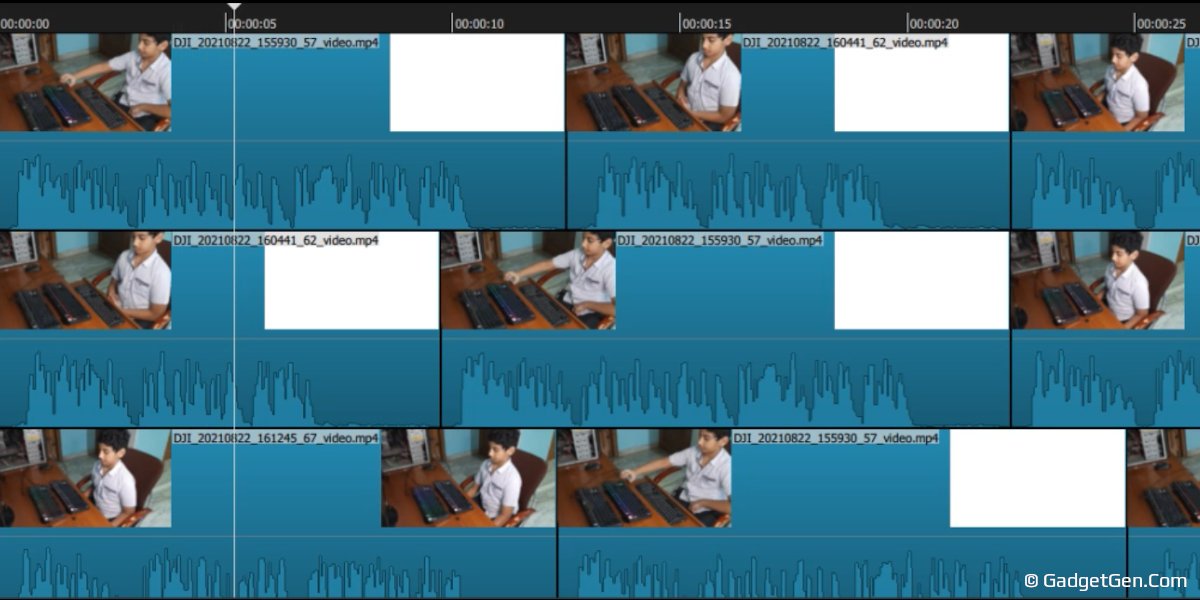 There are a few shortcomings also, nothing serious but worth mentioning. The motherboard does not have a model number, which makes it difficult to find the amount of RAM that it supports. We tried the "Crucial Scanner Tool" but even that could not find the specifications of this motherboard.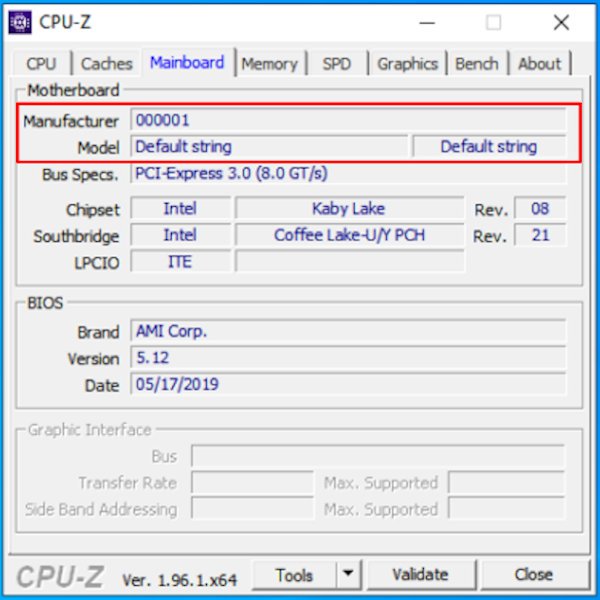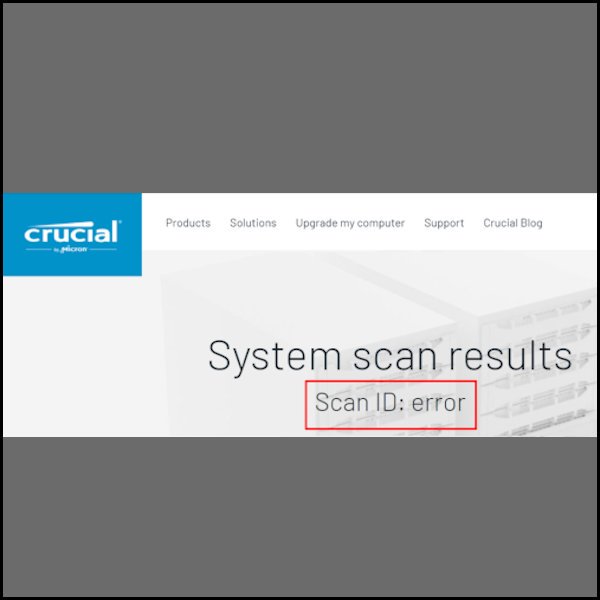 We managed to find the maximum supported RAM with the help of a command "wmic memphysical get maxcapacity". It happens to be 64GB, but since the processor supports only 32 GB and the fact that the processor is soldered onto the motherboard, 32GB is technically the max we can go up to.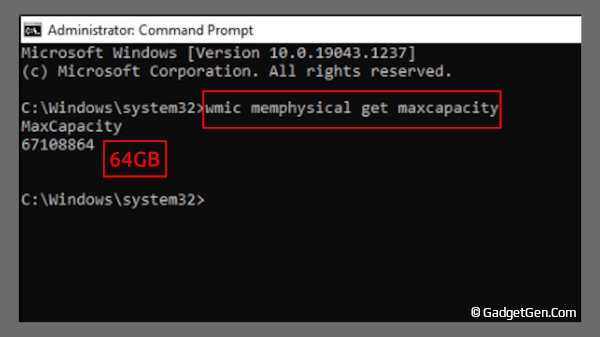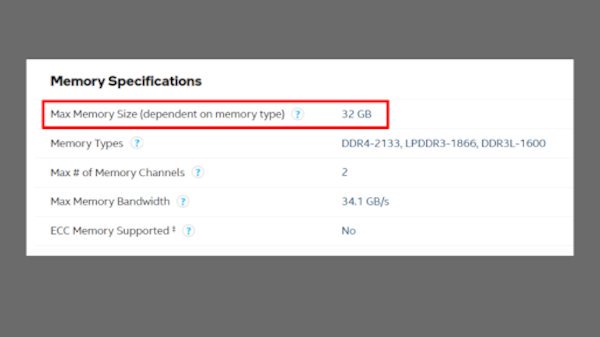 The other thing to keep in mind is that the SSD is not of a popular brand, also, since it is only 60 GB with just 20 GB of space left after updation, it is advisable to replace it with a higher capacity SSD or M.2 NVME drive for capacity and reliability. Bigger capacity SSD's are always more reliable than smaller ones since they have more space to relocate data from worn out flash cells. One very important thing to make a note of is to save the "Windows License Key" of this PC, because if the SSD fails, we will lose the licence as well, which is the most expensive thing in this computer at 200$. Since it has no "OEM Sticker", we retrieved it using a command "wmic path softwarelicensingservice get OA3xOriginalProductKey"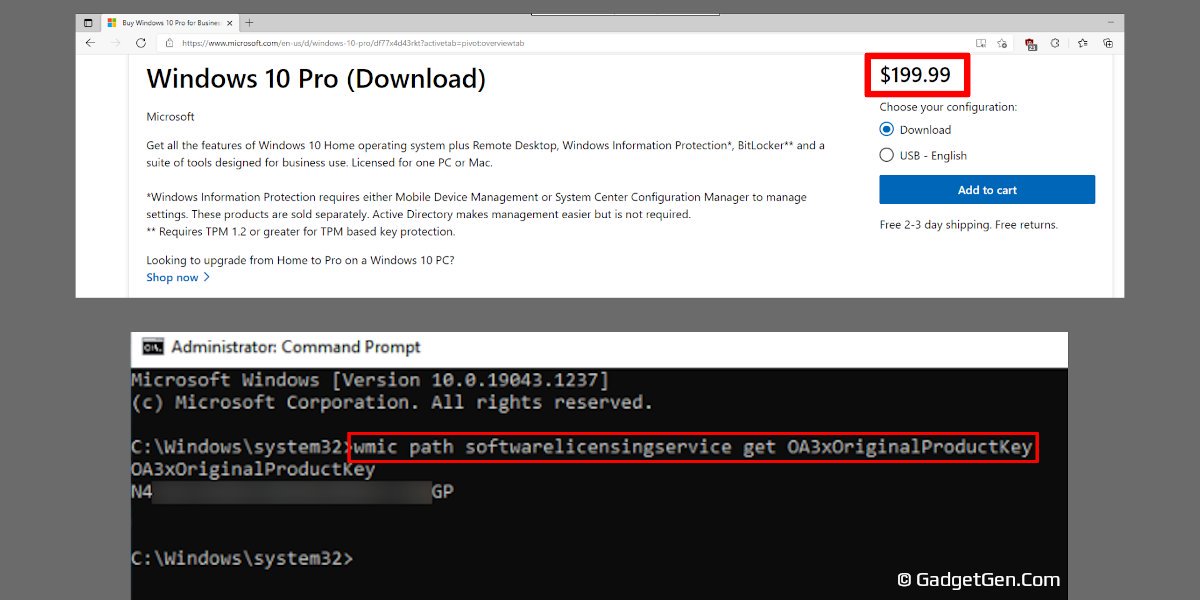 On the video front, we could play local 4K 60 videos alright, but YouTube 4k 60 videos were dropping frames. The 1080p 60 YouTube videos were playing fine though. Finally, we also checked if it can be upgraded to Windows 11, but that does not seem possible.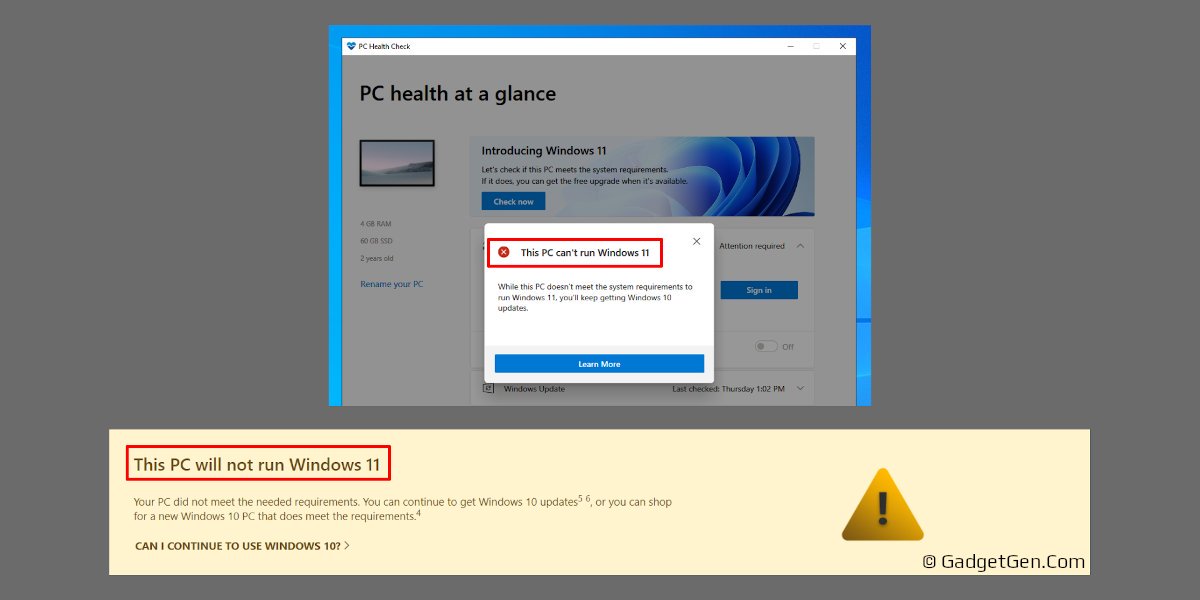 All in all, it is a very good computer for the money, it should do well for quite some time because it runs so relaxed, the processor is running so cool that it would have done alright with a passive heatsink. The power supply is not stressed at all because it is operating at 30% of its maximum output. The motherboard is "All Solid State Capacitor", which is a durable choice. It is reasonably powerful enough to get the job done for now, and when the applications demand more power in the future, it can be repurposed as a File Server since it consumes such low power.

The price keeps fluctuating, but once every few days the price drops and you can pick it for a good deal. Getting it under 10,000 Rupees would be a fantastic deal. We keep checking for a price drop. So, if you want to be informed as well, you can send us a message on our WhatsApp number +919885099850. Please mention "Mini PC Under 10K Deal" in the message.

-----

This product is available from 2 different sellers on Amazon:

We bought it from this seller:
https://amzn.to/3HVk1RJ

Another seller has listed the same product for a lesser price:
https://amzn.to/33uutAR

-----

Also, there is another model named X2000.

It is available on Amazon:

Vamaa:
https://amzn.to/34YdXty

Ezzotech:
https://amzn.to/3A3CUzg

X2000 looks similar on paper with its 4GB RAM and 64GB SSD, but, compared to the C1867 model that we reviewed in this video, it is much slower because of the older generation processor, DDR3 RAM only which again is limited to a maximum of 8GB. It you have to choose between both, C1867 should be your choice, even if X2000 costs a couple of thousand Rupees less.

Note: On Amazon, click "See all buying options" to display the price.

-----

Disclosure: Product links may generate affiliate revenue for us. The pricing remains the same at your end though.
Authors | @ArjunAndVishnu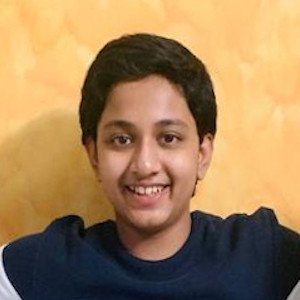 We made GadgetGen.com to review gadgets and explain the tech inside them.

We write for and maintain a few other websites:

LearnTechEasy.Com (Technology explained in an easy manner)

FreeSupport.in (Free tech support, clear and precise)

PicDictionary.com (An online dictionary in pictures)

I am Vishnu, I write the content and create the webpages. My brother Arjun, edits the images and videos. We started our YouTube Channel recently.